I am presenting bits of the City of God by St. Augustine. After Augustine I shall highlight SS. Jerome and John Chrysostom, as part of the section on the Classical Doctors of the Church. Of course, those of you who have been following this, know I am not going in chronological order, but a thematic order.
The times in which we live resemble those of St. Augustine. He witnessed the fall of Rome, and his book was written to both criticize Rome, as the City of Men, and to defend the Christians, in the City of God.
More and more, we are seeing those two spheres, those two cities as separate.
The Death of Archimedes
We shall be living in the City of God within the City of Men. Augustine has much to say which will help us find perfection in this tension. I imagine two spheres, or circles, slightly overlapping, like a Venn Diagram. But, the overlap with become smaller and smaller. Augustine, being taught classical mathematics, would have known of the work of Archimedes, arguably one of the most brilliant men ever to walk this earth. The imagery of the two cities as overlapping circles, has tragically been taken over by both the wiccas and the Masons in our times. But, the original ideas of good and evil existing side by side, or the city of the Spirit existing within the city of the Flesh remains a classical distinction.
What has this to do with perfection? We need to see ourselves as no longer in a Christian world, but as the Early Church, areas of Christianity is a huge world of paganism. We can envision the world of paganism as this famous cylinder of Archimedes and the sphere as the Christian world. The Plan of God was that all the world would live and work and have its being in His Perfection and Love. Our first parents ruined the plan, but Christ redeemed us and the world. However, sin abounds and the world of sin grows daily.
The Church will experience more and more separation, although never giving up on evangelizing, the way that will happen will change.
"See how they love one another". If this does not happen in an area, there will be no influence for good, for Christ.
Unless relationships are based on God, evangelization will fail. I cannot cover all the ideas as his description of the origin of both cities takes four books before these, but here is St. Augustine himself.
CHAP. 1.--OF THE TWO LINES OF THE HUMAN RACE WHICH FROM FIRST TO LAST DIVIDE IT.
OF the bliss of Paradise, of Paradise itself, and of the life of our first parents there, and of their sin and punishment, many have thought much, spoken much, written much. We ourselves, too, have spoken of these things in the foregoing books, and have written either what we read in the Holy Scriptures, or what we could reasonably deduce from them. And were we to enter into a more detailed investigation of these matters, an endless number of endless questions would arise, which would involve us in a larger work than the present occasion admits. We cannot be expected to find room for replying to every question that may be started by unoccupied and captious men, who are ever more ready to ask questions than capable of understanding the answer.
Yet I trust we have already done justice to these great and difficult questions regarding the beginning of the world, or of the soul, or of the human race itself. This race we have distributed into two parts, the one consisting of those who live according to man, the other of those who live according to God. And these we also mystically call the two cities, or the two communities of men, of which the one is predestined to reign eternally with God, and the other to suffer eternal punishment with the devil. This, however, is their end, and of it we are to speak afterwards. At present, as we have said enough about their origin, whether among the angels, whose numbers we know not, or in the two first human beings, it seems suitable to attempt an account of their career, from the time when our two first parents began to propagate the race until all human generation shall cease. For this whole time or world-age, in which the dying give place and those who are born succeed, is the career of these two cities concerning which we treat.
Of these two first parents of the human race, then, Cain was the first-born, and he belonged to the city of men; after him was born Abel, who belonged to the city of God. For as in the individual the truth of the apostle's statement is discerned, "that is not first which is spiritual, but that which is natural, and afterward that which is spiritual,"(1) whence it comes to pass that each man, being derived from a condemned stock, is first of all born of Adam evil and carnal, and becomes good and spiritual only afterwards, when he is grafted into Christ by regeneration: so was it in the human race as a whole. When these two cities began to run their course by a series of deaths and births, the citizen of this world was the first-born, and after him the stranger in this world, the citizen of the city of God, predestinated by grace, elected by grace, by grace a stranger below, and by grace a citizen above. By grace,--for so far as regards himself he is sprung from the same mass, all of which is condemned in its origin: but God,
By grace, we are strangers, and by grace we are citizens of heaven....Christ has called us to the City of God.
like a potter (for this comparison is introduced by the apostle judiciously, and not without thought), of the same lump made one vessel to honor, another to dishonor.(1) But first the vessel to dishonor was made, and after it another to honor. For in each individual, as I have already said, there is first of all that which is reprobate, that from which we must begin, but in which we need not necessarily remain; afterwards is that which is well-approved, to which we may by advancing attain, and in which, when we have reached it we may abide. Not, indeed, that every wicked man shall be good, but that no one will be good who was not first of all wicked but the sooner any one becomes a good man, the more speedily does he receive this title, and abolish the old name in the new. Accordingly, it is recorded of Cain that he built a city,(2) but Abel, being a sojourner, built none. For the city of the saints is above, although here below it begets citizens, in whom it sojourns till the time of its reign arrives, when it shall gather together all in the day of the resurrection; and then shall the promised kingdom be given to them, in which they shall reign with their Prince, the King of the ages, time without end.
Abel, without a city, represents us, those called to the City of God through baptism. Cain built a city and his city is of the flesh. These two cities exist side by side.
BOOK XIX
CHAP. 17.--WHAT PRODUCES PEACE, AND WHAT DISCORD, BETWEEN THE HEAVENLY AND EARTHLY CITIES.
But the families which do not live by faith seek their peace in the earthly advantages of this life; while the families which live by faith look for those eternal blessings which are promised, and use as pilgrims such advantages of time and of earth as do not fascinate and divert them from God, but rather aid them to endure with greater ease, and to keep down the number of those burdens of the corruptible body which weigh upon the soul. Thus the things necessary for this mortal life are used by both kinds of men and families alike, but each has its own peculiar and widely different aim in using them. The earthly city, which does not live by faith, seeks an earthly peace, and the end it proposes, in the well-ordered concord of civic obedience and rule, is the combination of men's wills to attain the things which are helpful to this life. The heavenly city, or rather the part of it which sojourns on earth and lives by faith, makes use of this peace only because it must, until this mortal condition which necessitates it shall pass away. Consequently, so long as it lives like a captive and a stranger in the earthly city, though it has already received the promise of redemption, and the gift of the Spirit as the earnest of it, it makes no scruple to obey the laws of the earthly city, whereby the things necessary for the maintenance of this mortal life are administered; and thus, as this life is common to both cities, so there is a harmony between them in regard to what belongs to it.
Obviously, we see we are in this dilemma now. We are strangers in the City of Men and if we do not feel this way or see ourselves as strangers, we are not in the Spirit.
But, as the earthly city has had some philosophers whose doctrine is condemned by the divine teaching, and who, being deceived either by their own conjectures or by demons, supposed that many gods must be invited to take an interest in human affairs, and assigned to each a separate function and a separate department,--to one the body, to another the soul; and in the body itself, to one the head, to another the neck, and each of the other members to one of the gods; and in like manner, in the soul, to one god the natural capacity was assigned, to another education, to another anger, to another lust; and so the various affairs of life were assigned,--cattle to one, corn to another, wine to another, oil to another, the woods to another, money to another, navigation to another, wars and victories to another, marriages to another, births and fecundity to another, and other things to other gods: and as the celestial city, on the other hand, knew that one God only was to be worshipped, and that to Him alone was due that service which the Greeks call latreia , and which can be given only to a god, it has come to pass that the two cities could not have common laws of religion, and that the heavenly city has been compelled in this matter to dissent, and to become obnoxious to those who think differently, and to stand the brunt of their anger and hatred and persecutions, except in so far as the minds of their enemies have been alarmed by the multitude of the Christians and quelled by the manifest protection of God accorded to them.
I write this entire perfection series because we are in these times.
We shall dissent more and more from the City of Men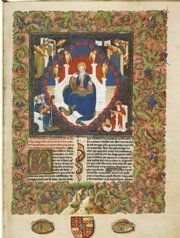 This heavenly city, then, while it sojourns on earth, calls citizens out of all nations, and gathers together a society of pilgrims of all languages, not scrupling about diversities in
the manners, laws, and institutions whereby earthly peace is secured and maintained, but recognizing that, however various these are, they all tend to one and the same end of earthly peace. It therefore is so far from rescinding and abolishing these diversities, that it even preserves and adopts them, so long only as no hindrance to the worship of the one supreme and true God is thus introduced. Even the heavenly city, therefore, while in its state of pilgrimage, avails itself of the peace of earth, and, so far as it can without injuring faith and godliness, desires and maintains a common agreement among men regarding the acquisition of the necessaries of life, and makes this earthly peace bear upon the peace of heaven; for this alone can be truly called and esteemed the peace of the reasonable creatures, consisting as it does in the perfectly ordered and harmonious enjoyment of God and of one another in God. When we shall have reached that peace, this mortal life shall give place to one that is eternal, and our body shall be no more this animal body which by its corruption weighs down the soul, but a spiritual body feeling no want, and in all its members subjected to the will. In its pilgrim state the heavenly city possesses this peace by faith; and by this faith it lives righteously when it refers to the attainment of that peace every good action towards God and man; for the life of the city is a social life.
Happy Augustine, at this point in the book, however, that he can envision a mutual
up-building
of both cities.
But, note, that he is realistic and warns us that we are, as Christians, always a "pilgrim state". We have peace by faith and by faith we live righteous, that is, just, lives.
To be continued..................