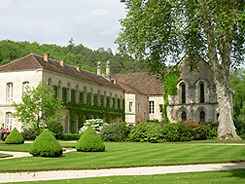 Fontenay, founded by St. Bernard
The first Cistercian monastery for women was established at Tart in the diocese of Langres (now Dijon) in 1125, by nuns from the abbey of Jully, a dependence of Molesme, where St. Humbeline, sister of St. Bernard, lived and died. St Stephen Harding established Tart as Citeaux's own daughter house and entrusted it to the pastoral care of the abbot of Citeaux. From then on individual monasteries of women as well as whole federations of nuns sought to ally themselves with the Cistercian monks first in France and then in Spain, where the royal monastery of Las Huelgas was founded in 1180. This, the next quotation, and photo from
http://www.ocso.org/index.php?option=com_content&view=article&id=122&Itemid=178&lang=en
If you share abundantly in the sufferings of him who died for you, you will also share abundantly in comfort through him, and thus your soul will come to delight in him and refuse to be comforted by anything else. - St Bernard of Clairvaux, Lenten Sermons on Psalm 90, Preface
Non nobis Domine, non nobis, sed nomini tuo da gloriam
(Not to us Lord, not to us, but to Your Name give the glory) Motto of the Knight Templar, whose patron is Bernard of Clarivaux.
One of my favourite saints is the sister of St. Bernard of Clarivaux, who died at the fairly young age after establishing twelve houses of nuns under the rule of her brother's order-the Cistercians. She was Bernard's younger and only sister.
What is amazing about here is that not only did she manage to be an abbess of great happiness, love and organization, but that she was married before she became a nun, and asked her husband's permission after five years of marriage to go into the convent.
I think he could see that he was no match for the young member of that great family, so Guy de Marcy gave in to her request and let her go. She and her daughter entered the harsh rule of the renewed Benedictines, where the young woman became holy. Like her mother, also a Blessed, she died young. Blessed Alith died at 40 and Blessed Humbeline was no older than 44 and some chroniclers put her age at late 30s. Her common dates are 1092-1136.
Her sister-in-law Elizabeth also was an abbess before her and together they built up the earliest foundations of women Cistercians. Strong ladies...............
The monastery of Jully where Humbeline was abbess no longer exists.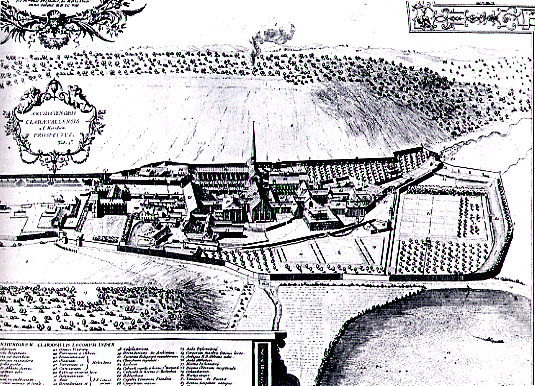 Clairvaux
All the members of St. Bernard of Clairvaux's immediate family are either Blesseds or Saints, including his father and mother. Here they are listed, plus a cousin and in-law.
Claivaux
These are: Blessed
Tescelin, Lord of
Fontaines
, and Blessed Aleth of Montbard, his parents; Blessed Gaudry, his uncle; his brothers, Blesseds Guy, Andrew, Bartholomew, Gerard; cousin Robert, (whose wife, Elizabeth became the abbess who received Humbeline after both husband and wife went into perspective monasteries), Nivard the heir and youngest brother (a great favourite in Spain to this day); and his sister, Humbeline.
What a
family! See the book here and others, for more details.
By the way, St. Bernard of Clairvaux is one of the founders and supporters of the Knights Templar, as well as their patron, as noted above. Thanks to wiki for the photo here of the Temple Church in London, from which the entire area of the Middle and Inner Temples gets the names
Blessed Humbeline's Feast Day is February 12th. This is from her liturgy:
God our Father, You are the hope of everyone
who feels truly widowed and alone. Through
the intercession of Saint Humbeline, May we submit
to you in sincere humility, And so pass through the
good things of this world as not to lose the good
things of the world to come.