Sometimes, it is easy to overlook a detail in the Gospel, especially when one is reading a dramatic piece of Christ's Life.
Take, for example, the trial of Christ before the Sanhedrin.
Today, because I experienced a particularly hectic day yesterday, partly from the Net being on and off for over 24 hours and partly for other reasons beyond my control, I meditated on this passage from Matthew 26:
57

But they holding Jesus led him to Caiphas the high priest, where the scribes and the ancients were assembled.
58

And Peter followed him afar off, even to the court of the high priest. And going in, he sat with the servants, that he might see the end.
59

And the chief priests and the whole council sought false witness against Jesus, that they might put him to death:
60

And they found not, whereas many false witnesses had come in. And last of all there came two false witnesses:
61

And they said: This man said, I am able to destroy the temple of God, and after three days to rebuild it.
62

And the high priest rising up, said to him: Answerest thou nothing to the things which these witness against thee?
63

But Jesus held his peace. And the high priest said to him: I adjure thee by the living God, that thou tell us if thou be the Christ the Son of God.
64

Jesus saith to him: Thou hast said it. Nevertheless I say to you, hereafter you shall see the Son of man sitting on the right hand of the power of God, and coming in the clouds of heaven.
65

Then the high priests rent his garments, saying: He hath blasphemed; what further need have we of witnesses? Behold, now you have heard the blasphemy:
66

What think you? But they answering, said: He is guilty of death.
67

Then did they spit in his face, and buffeted him: and others struck his face with the palms of their hands,
68

Saying: Prophesy unto us, O Christ, who is he that struck thee?
The detail is that Jesus held his peace.
Several things came to my mind while thinking of Jesus at peace while people yelled at Him, spit on Him, and slapped Him in the face.
First, He had peace amidst this chaos and hatred because He was totally dependent on the Father and the Holy Spirit. His life included a complete trust in God the Father, and the fullness of the Holy Spirit. Christ, the Second Person of the Blessed Trinity, even in this scene of chaos, rested in peace within the Trinity.
We all must come to this realization of the Indwelling of the Trinity given to us at baptism. This is our call to be holy in the world, even in chaos. Only in that Indwelling is there a deep, sustained peace.
Second, Christ was completely in the Will of God the Father. He had humanly willed what the Divine will desired. There was no conflict between Christ's humanity and His divinity, nor between His will and the will of the Father.
For us, this means that only in a complete giving over of our wills can we find peace in the midst of chaos. Anxiety arises out of fear, and fear reveals a lack of trust not only in Providence taking care of us, but in the perfect plan of God's Will for us. Anxiety, which is a sin, causes us to make bad choices. We fall into self-perservation mode, rather than in trusting God, if we are anxious.
Third, Christ did not have His plan for ordering the world into which He came, but submitted Himself to our chaotic world of sin and death, in order to defeat death. His comfort was not in re-ordering His environment, but responding in love to overcome to root of evil by sacrificing Himself on the cross.
Again, for us, this means that we cannot always control our environment and make a comfortable nest for ourselves. Americans, especially, pride themselves on creating the "perfect" home, car, dinner, etc., forgetting that this false world created by humans is totally temporary, and, too often, purely materialistic, not imbued with any spiritual life. We think that if we control our environment, we can find peace. Not so. We cannot shut out chaos, or evil, but must transcend both.
How?
By allowing God to perfect us, to purify us, to take away all our sins and imperfections, we can come to the peace which passes all understanding.
Jesus held his peace. As I struggle with a third day of constant Net interruptions, and a lack of peace in my immediate surroundings, having to endure another move, when I face, again, downright persecution from those who should be closest to me, and when I am made aware, through grace, with the depth of my own sins, I beg God for this peace of the Indwelling of the Trinity.
It is only when standing before the Sanhedrin that we finally see the true nobility and depth of God's sacrifice for us. All Christ had at that moment was His Own peace.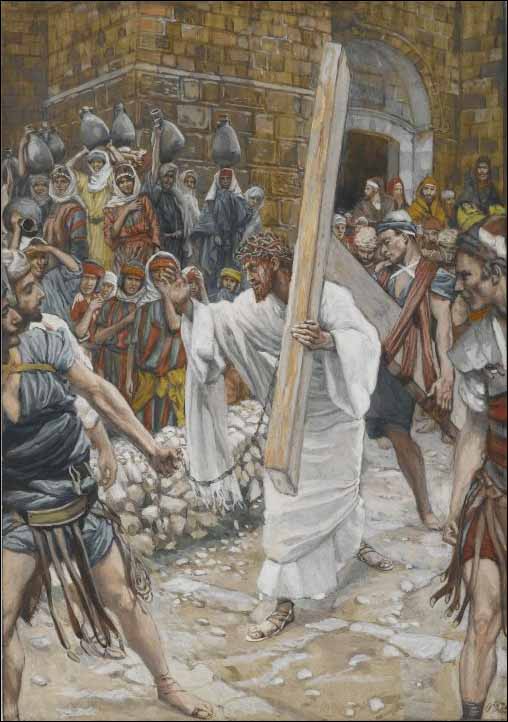 We may very well find ourselves in similar circumstances. Christ held His peace throughout the entire Passion. Imagine. I ask myself, "Could I maintain such deep peace in this chaos of evil?"
Yesterday, when I had to face spiritual chaos of a kind I had not experienced since 2011, because of intense spiritual warfare, and then, on top of that, the realization of my own sins and imperfections, I could have been lost in anxiety. But, instead, God allowed me to grow in humility, in the awareness of my complete dependence on Him, and, in the importance of denying my will and accepting, totally, His Will for my life.
Jesus held his peace. May He, in His mercy, teach us, quickly, how to hold ours when chaos and hatred surround us.