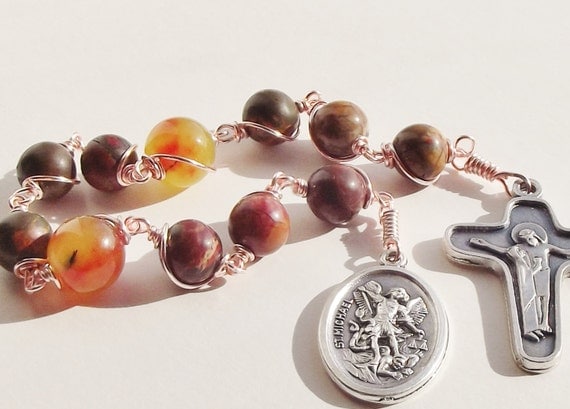 St. Michael Chaplet from Tigga Wild
I grew up saying the
Memorare
after the rosary except during the Easter Season, when we said the
Salve Regina (Hail, Holy Queen).
I suppose this was in imitation of
Compline
, were the
Salve
is only sung in Eastertide.
Now, I am hearing more and more people and CDs with the
Salve.
In the parishes in Dublin, we still said the
Memorare
last year.
Comments welcomed from rosary experts, please
Remember, O most gracious Virgin Mary, that never was it known that any one who fled to thy protection, implored thy help, and sought thy intercession, was left unaided. Inspired with this confidence, I fly unto thee, O Virgin of virgins, my Mother; to thee I come; before thee I stand sinful and sorrowful. O Mother of the Word Incarnate, despise not my petitions, but, in thy mercy, hear and answer me. Amen.
See also
http://www.etsy.com/shop/tiggawild