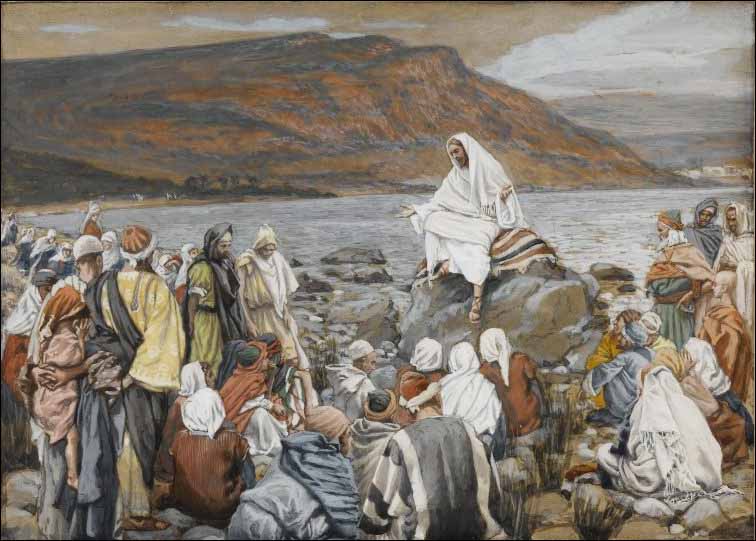 Luke 16:1-8

Douay-Rheims
16

And he said also to his disciples: There was a certain rich man who had a steward: and the same was accused unto him, that he had wasted his goods.
2

And he called him, and said to him: How is it that I hear this of thee? give an account of thy stewardship: for now thou canst be steward no longer.
3

And the steward said within himself: What shall I do, because my lord taketh away from me the stewardship? To dig I am not able; to beg I am ashamed.
4

I know what I will do, that when I shall be removed from the stewardship, they may receive me into their houses.
5

Therefore calling together every one of his lord's debtors, he said to the first: How much dost thou owe my lord?
6

But he said: An hundred barrels of oil. And he said to him: Take thy bill and sit down quickly, and write fifty.
7

Then he said to another: And how much dost thou owe? Who said: An hundred quarters of wheat. He said to him: Take thy bill, and write eighty.
8

And the lord commended the unjust steward, forasmuch as he had done wisely: for the children of this world are wiser in their generation than the children of light.
What exactly is Christ telling the children of light today? He is comparing earthly, worldly wisdom with something else. The Lord is showing how the clever steward prepared for his life after work.
How did he do this? He was merciful and made friends by using his master's wealth to forgive debt.
What has this to do with the remnant?
Firstly, we are the children of light, called by God to become holy. We become holy by using the gifts, the graces God has given us.
Second, God is the Master in this parable. God, the Master calls us to account for wasting his graces, his goods. This will be our particular judgment. But, in this parable, Christ is telling the Jews that they are wasting the grace of seeing Who Christ Is and following Him.
Why does Christ praise someone who uses the Master's goods and makes friends using the Master's goods? Because that is what we are called to do in the Church-use our gifts, use graces of repentance and mercy, and make friendships in the Lord.
Third, Christ laments at the end of this story that the children of light, those who have been given Revelation and Tradition, are not stocking up merit for the next life, the life after work.
Are you making friendships in the Lord? Are you using the graces God is still pouring out upon us now? Life after work may come sooner than some think.