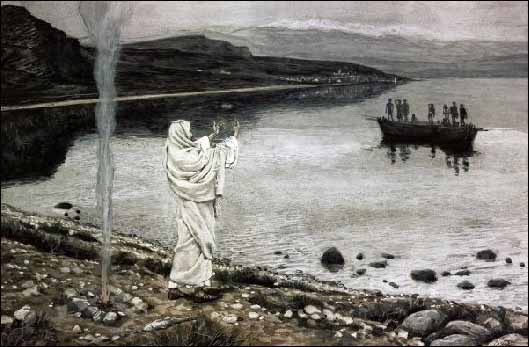 Fish stories come to my mind today, because in the Gospel for the Thursday After Easter, one sees Christ helping the apostles come to terms with His Risen Body by eating "grilled fish".
By this small act, Christ reveals His Risen Body, as not merely that of a spirit, but of flesh renewed. The multiplication of the loaves and fishes will not be discussed in this post.
from Luke 24:
33

And rising up, the same hour, they went back to Jerusalem: and they found the eleven gathered together, and those that were staying with them,
34

Saying: The Lord is risen indeed, and hath appeared to Simon.
35

And they told what things were done in the way; and how they knew him in the breaking of the bread.
36

Now whilst they were speaking these things, Jesus stood in the midst of them, and saith to them: Peace be to you; it is I, fear not.
37

But they being troubled and frightened, supposed that they saw a spirit.
38

And he said to them: Why are you troubled, and why do thoughts arise in your hearts?
39

See my hands and feet, that it is I myself; handle, and see: for a spirit hath not flesh and bones, as you see me to have.
40

And when he had said this, he shewed them his hands and feet.
41

But while they yet believed not, and wondered for joy, he said: Have you any thing to eat?
42

And they offered him a piece of a broiled fish, and a honeycomb.
43

And when he had eaten before them, taking the remains, he gave to them.
Christ shows the apostles, and us, that the risen body of those in glory at the end of time will be a real body and not merely an image of the person in a "ghostly form".
Something new is being revealed which only Christ could reveal. In the Old Testament, and in the New, we see people being raised from the dead, such as Lazarus of Bethany, the Daughter of Jairus, and the Son of the Widow of Nain. In the Old Testament, Elijah raised the son of the widow of Zarephath, which was an old town very near Nain. In fact, Jesus's raising of the son of the widow would have brought to mind Elijah's miracle to the faithful Jews, who knew their Scripture.
But, the bodies of these people were not "glorified". Christ is the First Person on earth to be resurrected in the form in which all at the Second Coming who go to heaven will experience. Those who will go to hell have their bodies, but not in "glory", of course.
Another fish story comes to my mind, but in this Old Testament story, highlighted many times on this blog, that of Tobit and Raphael, wherein a fish is caught and used to repel a demon.
Raphael eats in front of Tobit and others, but when he reveals himself, not as a second-cousin once removed, but as the great Archangel of Healing, he states this: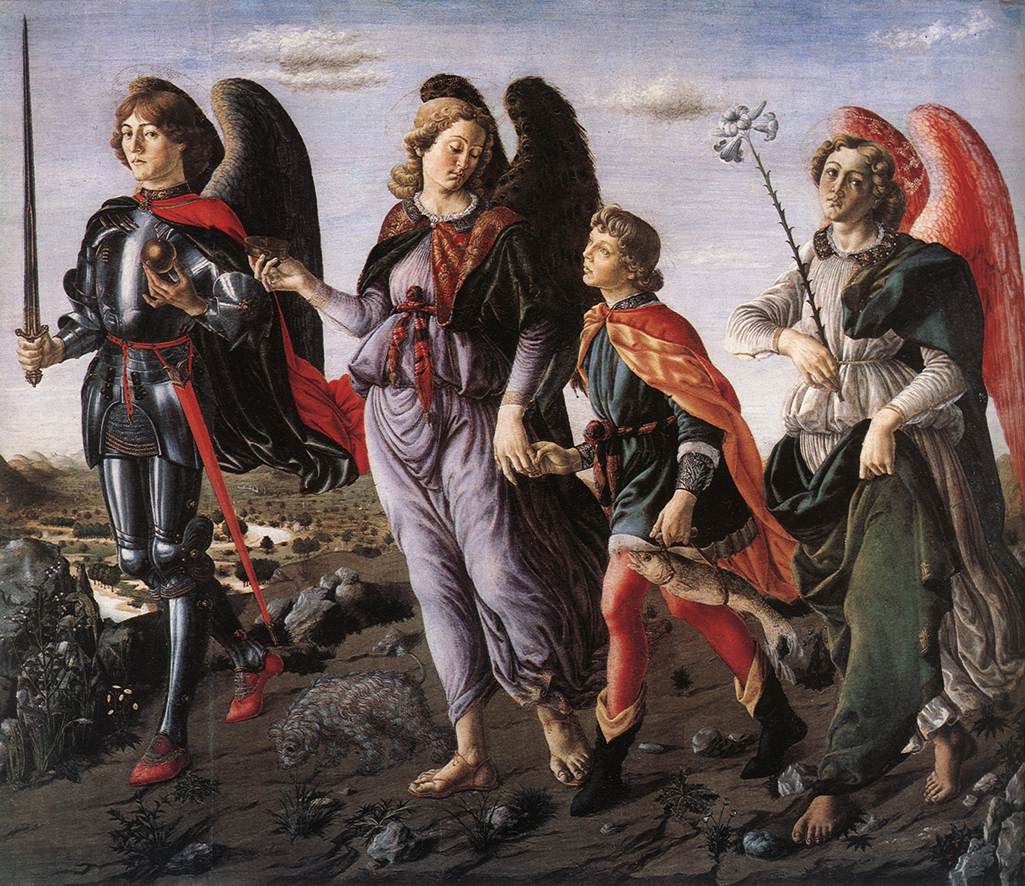 from
Tobit 12:
5
So the father and the son,
calling him, took him aside: and began to desire him that he would vouchsafe to accept of half of all things that they had brought.
6

Then he said to them secretly: Bless ye the God of heaven, give glory to him in the sight of all that live, because he hath shewn his mercy to you.
7

For it is good to hide the secret of a king: but honourable to reveal and confess the works of God.
8

Prayer is good with fasting and alms more than to lay up treasures of gold:
9

For alms delivereth from death, and the same is that which purgeth away sins, and maketh to find mercy and life everlasting.
10

But they that commit sin and iniquity, are enemies to their own soul.
11

I discover then the truth unto you, and I will not hide the secret from you.
12

When thou didst pray with tears, and didst bury the dead, and didst leave thy dinner, and hide the dead by day in thy house, and bury them by night, I offered thy prayer to the Lord.
13

And because thou wast acceptable to God, it was necessary that temptation should prove thee.
14

And now the Lord hath sent me to heal thee, and to deliver Sara thy son's wife from the devil.
15

For I am the angel Raphael, one of the seven, who stand before the Lord.
16

And when they had heard these things, they were troubled, and being seized with fear they fell upon the ground on their face.
17

And the angel said to them: Peace be to you, fear not.
18

For when I was with you, I was there by the will of God: bless ye him, and sing praises to him.
19

I seemed indeed to eat and to drink with you: but I use an invisible meat and drink, which cannot be seen by men.
20

It is time therefore that I return to him that sent me: but bless ye God, and publish all his wonderful works.
21

And when he had said these things, he was taken from their sight, and they could see him no more.
22

Then they lying prostrate for three hours upon their face, blessed God: and rising up, they told all his wonderful works.
Raphael, as a spirit, an angel, cannot really eat. But, God allowed him to work with humans in a form which they would accept and understand. Christ's Risen and Glorified Body is not that of an angel, but a man.


Another fish story comes to mind from the
Gospel of
John 21:
1 After this, Jesus shewed himself again to the disciples at the sea of Tiberias. And he shewed himself after this manner.

2 There were together Simon Peter, and Thomas, who is called Didymus, and Nathanael, who was of Cana of Galilee, and the sons of Zebedee, and two others of his disciples.

3 Simon Peter saith to them: I go a fishing. They say to him: We also come with thee. And they went forth, and entered into the ship: and that night they caught nothing.

4 But when the morning was come, Jesus stood on the shore: yet the disciples knew not that it was Jesus.

5 Jesus therefore said to them: Children, have you any meat? They answered him: No.

6 He saith to them: Cast the net on the right side of the ship, and you shall find. They cast therefore; and now they were not able to draw it, for the multitude of fishes.

7 That disciple therefore whom Jesus loved, said to Peter: It is the Lord. Simon Peter, when he heard that it was the Lord, girt his coat about him, (for he was naked,) and cast himself into the sea.

8 But the other disciples came in the ship, (for they were not far from the land, but as it were two hundred cubits,) dragging the net with fishes.

9 As soon then as they came to land, they saw hot coals lying, and a fish laid thereon, and bread.

10 Jesus saith to them: Bring hither of the fishes which you have now caught.

11 Simon Peter went up, and drew the net to land, full of great fishes, one hundred and fifty-three. And although there were so many, the net was not broken.

12 Jesus saith to them: Come, and dine. And none of them who were at meat, durst ask him: Who art thou? knowing that it was the Lord.

13 And Jesus cometh and taketh bread, and giveth them, and fish in like manner.
14 This is now the third time that Jesus was manifested to his disciples, after he was risen from the dead.
Yesterday, we heard the Gospel on the disciples meeting Christ on the way to Emmaus and eating with Him.
All these passages may be seen in reference to Christ's Body being Present in the Eucharist, which the Doctors of the Church point out to us. But, Christ is also revealing to us that humans have a body and a soul, and being totally Human, Christ in His Resurrected Body eats.
We cannot understand the new bodies which those who are faithful will receive on the Day of the Lord, the day of the Final Judgment, but Christ is trying to show us the reality of the resurrection from the dead for all who believe and are saved.
Perhaps today would be a good day to re-read the Baptismal Rite of the Church, in order to understand more the fact that we are, body and soul, destined for heaven, if we conform our wills to Christ's Will.