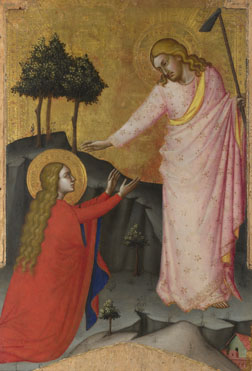 John 20:11-18
Jesus Appears to Mary Magdalene
11

But Mary stood weeping outside the tomb. As she wept, she bent over to look[a] into the tomb;
12

and she saw two angels in white, sitting where the body of Jesus had been lying, one at the head and the other at the feet.
13

They said to her, "Woman, why are you weeping?" She said to them, "They have taken away my Lord, and I do not know where they have laid him."
14

When she had said this, she turned around and saw Jesus standing there, but she did not know that it was Jesus.
15

Jesus said to her, "Woman, why are you weeping? Whom are you looking for?" Supposing him to be the gardener, she said to him, "Sir, if you have carried him away, tell me where you have laid him, and I will take him away."
16

Jesus said to her, "Mary!" She turned and said to him in Hebrew,[b] "Rabbouni!" (which means Teacher).
17

Jesus said to her, "Do not hold on to me, because I have not yet ascended to the Father. But go to my brothers and say to them, 'I am ascending to my Father and your Father, to my God and your God.'"
18

Mary Magdalene went and announced to the disciples, "I have seen the Lord"; and she told them that he had said these things to her.
One of the most mysterious sayings of Christ in the entire New Testament occurs when He meets Mary Magdalene in the garden tomb area after His Resurrection.
Christ tell me not to "hold" on to him, not to touch Him, as He has "not yet ascended to the Father."
That is mysterious enough, but Christ goes on to tell Mary that she must carry the message of His ascending "to my Father and your Father, to my God and your God."
Was Christ stating that after the Resurrection He went up to heaven, or is He prophesying His Own Ascension which will happen in forty days?
And, in either case, why cannot Mary touch Him, or "hold" Him?
This passage has nothing to do with the fact that Mary was a sinner, as she has, at this time, been forgiven and witnessed the Crucifixion, thereby earning great merit, with St. John and those who did not run away.
The great sinner, now a holy follower of Christ, is also given the task to be a messenger to the apostles. Christ entrusts her with the news of His Resurrection-a great honor.

I see this as a Eucharistic and Priestly revelation.
Mary was told not to hold on to Jesus as Christ was now in His Glorified Body-He is no longer the pre-death Jesus, but the Victor over death and sin, having been to Hell and brought the captive faithful, now freed, to heaven. He is revealing to Mary His Divinity, in a way which before the Resurrection was mostly hidden. Only three apostles witnesses the Transfiguration, a hint of Christ in Glory. Now, many will see Christ Glorified Body.
Christ has not yet ascended into heaven, where He will reign until the Second Coming. We relate to Christ in a different manner, through the Eucharist, through the Church, through grace which leads to Union. Christ will become "universally touchable"-available to all men and women, not just those who knew Him on earth through the Eucharist. Mary is told of a new relationship.
None of us can claim Christ as "only" our Lover, our Bridegroom, although that is the goal of all Christians who desire an intimate relationship with Christ. Yes, He is a personal Savior, but so much more. He is now the King of Kings, and Lord of Lords, the True Messiah Who leads all men and women to God, His God, the Father, and our God. Christ is revealing Himself to Mary as the Second Son of the Blessed Trinity, in Glory with the Father and the Holy Spirit. Her initial zeal is checked by a new revelation. Christ will now dwell within Mary, and all of us in the Indwelling of the Trinity.
The apostles, especially Thomas, are allowed to touch Jesus-because they are
priests.
Sharing in the Priesthood of Christ, they have a relation to Him which women do not, not because women are less in honor, but because Christ created the male priesthood at the Last Supper. This "noli me tangere" may very well be Christ's way of explaining to His followers that His Presence must be reverenced in a new way.
Yet, Mary is given the task to tell the apostles Christ is Risen. She is the bearer of the Good News to the men who did not come to the tomb, until John and Peter run back after Mary tells them. The women know first because their love is greater-they were not afraid to bring herbs and spices despite the soldiers being on guard. Christ responds to their love.
Just a few thoughts on this Easter Tuesday morning....