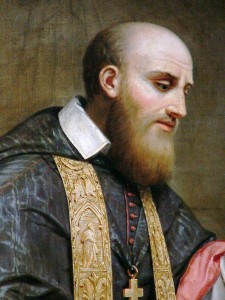 Those regular readers know that I have done in the past a series on the predominant fault. Just follow the tags and labels. Some posts are linked below.
Remember when I wrote of the possibility of us having more than one? Well, apparently, St. Francis de Sales wrote that he had two predominant faults, as noted by St. Alphonsus Ligouri in his book,
The Twelve Steps to Holiness and Salvation.
St. Francis de Sales admitted to having anger and love as his two predominant faults. Today, I want to examine what both saints wrote of these two predominant faults.
Firstly, St. Alphonsus reveals that anyone who gets upset with sin in one's own life is not humble, but proud, and may be exhibiting the predominant fault of anger. Anger is not merely focused on other or events, but one can look at one's self in anger.
St Alphonsus corrects one's perception by noting that the humble person quietly and resignedly accepts sin as part of life (until the Unitive State), and that one must pray to God, as did St. Catherine of Genoa, to see the good in one, the fruit of repentance, not merely the horror of sin.
"Lord, see, here is the fruit from my own garden! But, pardon me, I beg Thee!" A quick and sincere prayer reveals a humble heart.
And, St. Francis de Sales warns against all types of anger, even towards one's self.
That St. Francis admitted his own predominant faults encourages us to face and overcome our own, with grace. He wrote that it took his twelve years to overcome anger, working on that sin for that length of time.
Some women have shared with me that vainglory is a predominant fault-that is, wanting to be noticed, wanting to be attractive.
St. Francis shared that one of his predominant faults was love. How can love be a fault, one might ask?
Love many be inordinate or focused too much on people rather than God Himself. God is a Jealous God when it comes to our hearts. When St. Francis changed the emphasis of his love to God, he finally overcame that predominant fault of misplaced love.
More later...an here are some links
Friday, 6 December 2013